Downloads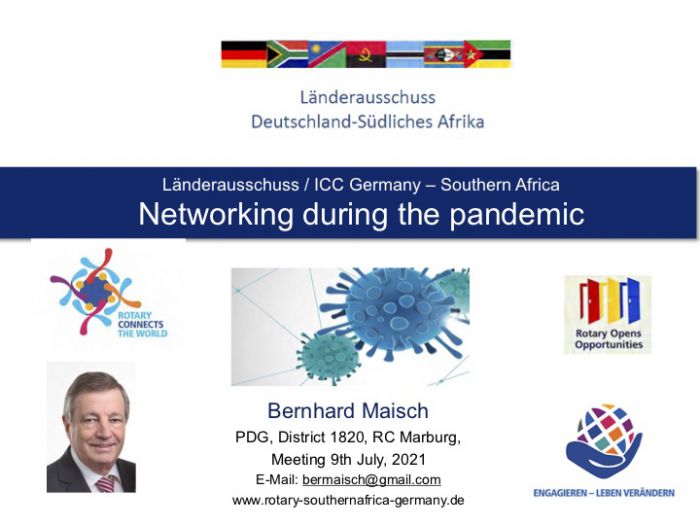 On July, 7th the second online meeting of the Inter Country Committee took place.
Please find below some documents for download.
The agenda of the meeting:
Time

Agenda

Responsibility

17:30

Login

 

17:45

Welcome, Agenda– Our goals today

PDG Bernhard Maisch (Chair)

17.50

Welcome from lead district 1820

PDG Rainer Moosdorf

17:55

Welcome by the Governors, PDGs and coordinators from Southern Africa

DG Stella Anwangye, PDG Annemarie Mostert, PDG Carl-Heinz Duisberg, DG Ian Robertson, Frank Schwardmann (all invited)

18:00

New Members – Welcome to our ICC

Frank Hörl (D1940), Nadine Morlock (D1820), Anne und Frederik van den Bergh (D2000)

18:10

Report 2020-21 of the chairman

PDG Bernhard Maisch

18:20

Report of the coordinators

for D 9350

for D 9400

 

PDG Wernt Brewitz

PDG Jörg Dienenthal

18:35

Rotary Grants for Southern Africa in operation

a)  GG for a hospital near Capetown in Covid 19

b) GG 2015554 PPE in Covid-19 for the Tygerberg Children Hospital

c) DG Go for Gold

 

 

PDG W. Brewitz/DG C.-H. Duisberg

PDG B. Maisch/PP Helene Visser (invited)

PDG B. Maisch/Richard Saxby

18:45

RAM – Rotary Action Group against Malaria

Youth exchange during Covid-19

Further reports from ICC Members on their district and club activities are most welcome !

Konrad Meyfarth

Klaus Meyer

NN

19:00

African Countries as our Partners – Key note lecture

Stefan Liebing (RC Quickborn, D1890) (invited)

19:15

Major Health Issues in Southern Africa

Rainer Moosdorf (RC Marburg-Schloss, D1820)

19:25

Flash-back on African Rotary Centennial and new project ideas in D 9400

PDG Annemarie Mostert (invited)

19:35

Retrospective and perspective in D 9350

PDG Carl-Heinz Duisberg

19:45

News from D 9370

DG Madeleine Webber, PDG Maud Boikanyo (invited)

19:55

Kavango-West – Schoolbook proposal

Peter Reiner / Bernhard Maisch / Frank Schwardmann (invited)

20:05

The ICC Preconvention on Peace – Looking back

PDG Udo Noack (invited)

20:10

Is there sufficient financial support by Rotary International in 2021-22?

DRFC Jürgen Stihl (invited)

20:20

Varia

 

20:25

Finale

PDG Bernhard Maisch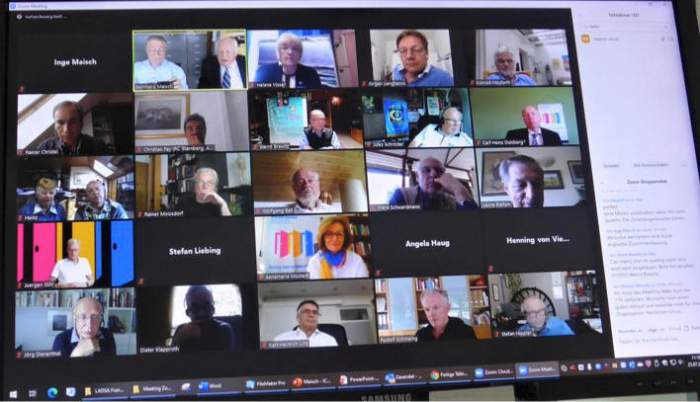 The Intercountry Committee Germany - Southern Africa met online via ZOOM for the first time in its history.
That made it possible for our friends in Southern Africa to participate in the meeting. Please find a protocol of the meeting, of ongoing and planned projects and interesting comments concerning our fellowship, Southern Africa, and Rotary.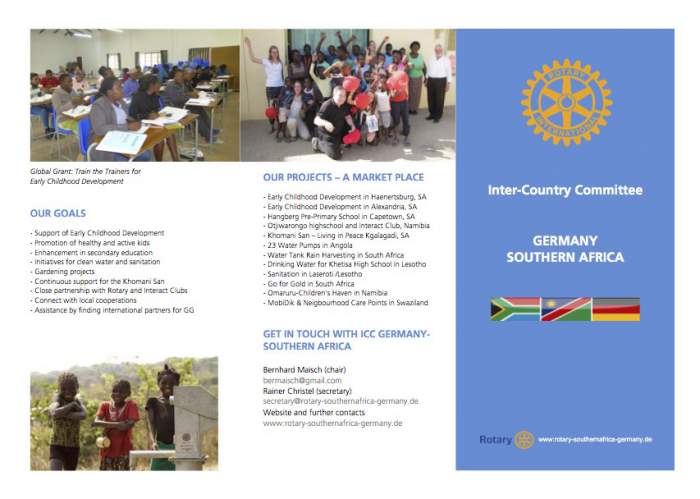 The ICC issued a new folder for the Rotary World Convention 2019 in Hamburg. Please feel free to download it, use it and distribute it.